Boxing
Method in the Madness: The Mayweather pad work drill
Milan Ordoñez on Mar 17, 2015 04:58 PM
Photo credit: Showtime Boxing Official Facebook page
Focus mitts training is an integral part of every camp, whether it is boxing or MMA. These drills may be scheduled according to the trainer's preference throughout the camp, but there should be at least a generous amount of sessions with the pads in a week's schedule.
While doing well on the pads does not necessarily equate to instant success in the ring, it helps keep sharp two of combat sports' most important fundamentals: reflexes and target. Keeping these two sharp automatically gives a fighter a slight edge over his opponent. He moves quicker, anticipates the punches better. His head movement, footwork, and hand-eye coordination will always be top-notch.
Every trainer has his own style of doing pads. For Cus D'Amato and the early 80's Mike Tyson, punches were numbered (one=jab, two=cross, three=left hook, and so on). Once Cus yells a combo (3-2-3), Mike obliges with a left hook, a right cross, and another left hook to finish. Freddie Roach has Manny Pacquiao doing both headhunting and body work at the same time. Robert Garcia has his creative way of mixing up his combos to maintain the unpredictability, while focusing on effectively integrating power shots into them, as well.
But the most peculiarly interesting of them all is that of Roger Mayweather, who trains none other than the reigning pound-for-pound boxing king, Floyd "Money" Mayweather.
The Philly Shell, a.k.a "The Shoulder Roll"
It is no secret that Floyd Mayweather's game is anchored on the shoulder roll. Standing from the orthodox (righty) fighting stance, Mayweather basically uses his left shoulder to have his opponents' punches ricochet off it, ultimately shielding his jaw from taking a hit.
In this particular sequence during the second round of the September 2013 fight against 'Canelo' Alvarez, Mayweather willingly ate half of that left hook to the jaw the second time around, but shortly followed it up with a short right upper cut-left hook combo when the distance was closed.
Often times, he plays off the shoulder roll to set up his counter shots, as depicted in his 2009 fight against Juan Manuel Marquez. The classic "make him miss, make him pay."
The Roger Mayweather brand of pad work
Banking off attacks on the shoulder roll requires top-notch reflexes, and perfecting it requires a generous amount of drill time. This is where Roger Mayweather's signature pad work comes to play.
Now, the Mayweather pad work may look like a game of patty cake with all the pitty-pattering, but it touches on three more important boxing fundamentals: endurance, timing, and defense.
Roger bounces off the pads on Floyd's shoulder to give way for the roll. And given that Floyd's most effective when fighting as a counterpuncher and off of his reflexes, Roger's training suits him perfectly.
In the actual fight, Floyd does the pad work routine in reverse: he first baits his opponent to throw a punch which he conveniently slips from, then he follows up with a double-hook combo.
Naturally, reflex-based fighters hold a good advantage over their opponents mainly because they are able to establish control. Whenever a fighter shows ill-advised aggression against Mayweather, he normally ends up in the raw end of the deal. In essence, he is placed under the mercy of Floyd Mayweather, who patiently waits for the perfect opening to land a snappy left hook or straight right.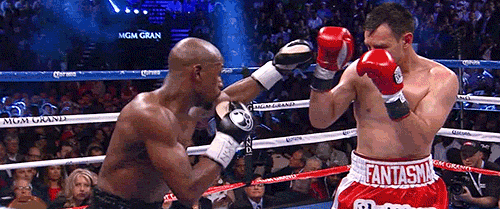 In order for these drills to effectively work in the ring, however, Mayweather needs to be in punching range, at the very least. The reason why Maidana and Cotto were able to find little success in neutralizing Floyd's attacks was quite simple: do not leave space to operate.
But of course, like the ring magician that he is, Floyd Mayweather has so far managed to weather whatever storm came his way, thus his immaculate 47-0 record.
A part of the reason comes from Mayweather's ability to adjust his style, mid-fight. But the bulk of the credit still goes to the endurance, muscle memory, and accuracy developed through the countless of hours of pad work drills with Roger Mayweather, which usually run for twenty continuous minutes.
And if anything, Roger Mayweather's pad work drill encapsulates the grand battle cry of the entire "Money Team": Hard work, dedication!
Follow this writer on Twitter: @Mr_Ordonez