Boxing
Method in the Madness: Conquering Floyd Mayweather Jr.
Milan Ordoñez on Apr 29, 2015 06:09 PM
Photo credit: AP Images
In a perfect 'Money Team' world, Floyd Mayweather Jr. runs through Manny Pacquiao on May 2nd, earns a 48-0 record, and goes on his way to hold the title of the "Greatest Boxer of this generation", along with a $120 million pay check.
But we are not living in the perfect world of Mayweather standards, and Floyd Jr. being merely human, can be defeated. Notwithstanding, of course, the impressive streak he has so far held throughout the 19 years of his professional career.
Love him or hate him, no one can overlook the skills that Floyd Mayweather Jr. possesses. His reflexes are still second to none, his ability to adjust his style according to the fight's complexion remains top-notch, and his boxing IQ is still on an elite level.
However, boxing is not called "The Sweet Science" for nothing, and using the right tools, any man, no matter the talent level or unblemished record, can be toppled down. Unfortunately for Mayweather (and luckily for Pacquiao fans), Manny does have the weapons to impose a significant amount of damage.
The Southpaw headache
For any orthodox/right-handed fighter, facing a southpaw (lefty) will always be a predicament to deal with. This is mainly due to the fact that southpaws are almost always put at an immediate advantage in the stance battle, where it all begins.
Before any punches are thrown, both fighters evidently square off first. A southpaw uses his right leg as his lead leg, and conversely, the orthodox fighter has his left leg as his lead leg. With a slight movement of his lead right leg towards his right side which is then positioned outside of the orthodox fighter's lead left leg, the southpaw fighter now holds a good enough edge to open up his shots.
None other than Manny Pacquiao is a master of this approach. "Pacman" of course is known to be one of the fiercest southpaws (if not the fiercest) in the game today, with his straight left being his primary weapon. This was fully in effect in his 2008 fight against Oscar De La Hoya, the fight that catapulted him to mainstream superstardom.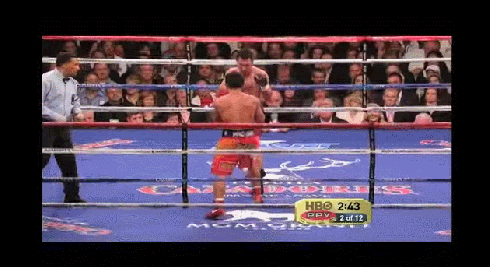 Notice how Pacquiao's right leg is outside of De La Hoya's left leg. This position has given him more leverage to land his straight left hand with more ease.
Mayweather vs. Lefties
In total, Floyd Mayweather has faced eight southpaw opponents. His father, Floyd Sr., even went on record once about his concerns regarding his son facing lefties. Of course, once Junior began tearing up the boxing world, he ultimately went the other way and welcomed the challenge instead.
Apart from the stance advantage, another problem an orthodox fighter usually has when dealing with the southpaw is the angles from which the punches are thrown. His normal orientation is that the power punches from a fellow orthodox will be coming from his left hand side, while jabs will be coming from his right hand side.
For an orthodox fighter, facing a southpaw is facing his mirror image. During Mayweather's 2006 fight against fellow Olympian Zab Judah, this problem became a tad bit apparent.
At the beginning of the bout, Judah (in the black and red trunks) had drafted a clever game plan, and that is to circle towards Mayweather's left, away from the straight right hand. Through it, he was able to fully utilize his jab, whether to inflict hurt, or just to perfectly set-up his power shots.
In this sequence, Judah was making Mayweather react with a couple of lazy jabs. When Floyd darted in for his trademark straight right, Judah immediately weaved off it and drilled two left hooks to the body, followed with another right hook to his right side.
Judah also strategically made use of his lead right hooks. Expecting a jab to be thrown, Mayweather was forced to backpedal when Judah instead threw a hook.
If not to lead with it, Judah used the right hook as a counter. This sequence was when referee Richard Steele failed to give Judah the knockdown, when it can be argued that he should have been because Mayweather's right hand already touched the canvas.
The southpaw stance has also proven to have Mayweather vulnerable for straight lefts to the body. These may not look much, but landing them consistently throughout the bout could be a long night for anyone, even for a defensive virtuoso such as Floyd Jr.
Here is Exhibit A, against Victor Ortiz.
And here is Exhibit B, again, versus Zab Judah.
The King's Kryptonite
As flawless as he may seem, "Money Mayweather" does have his moments when he is deduced from a master boxer into an average slugger. During HBO Boxing's pre-fight featurette entitled "Legends Speak", Oscar De La Hoya pointed out Mayweather's inability to negate the jab. Looking at Junior's past fights, "The Golden Boy" may be on to something here.
In his 2010 bout against future Hall-of-Famer "Sugar" Shane Mosley, Mayweather did have very few answers for the jab. In the opening rounds, Mosley was connecting at will with. In some cases, Mayweather was forced to either take the punch, or like his reaction to Zab Judah's lead right hook, backpedal in retreat.
Mosley found success with the jab when he began mixing it up, throwing head and body shots alternately. In one instance during the second round of the fight, "Sugar Shane" was even able to open up an opportunity to land a clean straight right that stunned Mayweather.
Notice that Mosley's combo was executed in rapid succession. He did not waste a second to immediately snap in the straight right after throwing the jab. Fittingly, Pacquiao employs the same style with his basic one-two combos.
Although it was evident that Pacquiao was overly eager to land that one solid blow, he was employing the perfect strategy against an outstanding counterpuncher like Juan Manuel Marquez, and that is to constantly be on his face and not leave Marquez any room to operate.
At the same time, it would be key for him to fully utilize his movement off his shots not be an open target for Mayweather's snappy counters.
Most importantly: he must find a way to land more of these, with more accuracy and effectiveness.
Fight night is four days away. May the best man win.
Follow this writer on Twitter: @Mr_Ordonez